Buy hoof supplies and farrier equipment from horse folks like you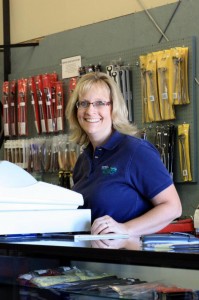 Horses are a part of everyday life for this family. The Floyds are actively involved in 4H and the high school equestrian team through their daughter. Ken and his daughter have started in Mounted Shooting together with their horses.
An avid student of the hoof, Ken knows plenty about farrier equipment and hoof supplies. He is fastidious about the products offered by our store, making sure we carry everything a farrier might need, from the common shoe to the specialty product. Maxine knows the inventory through and through. Count on Maxine to help you find the product you need, then promptly ship it to wherever you are.
And that inventory is vast. We carry a large selection of farrier equipment, including St. Croix , Kerckhaert, Anvil, and Victory shoes from Werkman 7/O to draft 8. We also stock a full line of Victory, GE/KB, Thoro'bred, Delta and Grand Circuit aluminum horse shoes, and the colored PonyW'air and Easywalker shoes.
Need more than horse shoes? We stock over 40 kinds of Delta, Capewell, Mustad, Cooper, Patriot and Vector nails, and over 15 kinds/brands of rasps. We also stock Anvil Brand, GE, JB, Mustad and Edge tools, NC forges, anvils. Olympia Farrier Supply is a distributor for Vettec products, Hawthorne, SBS and Vetericyn.
We're also building out our inventory to stock therapy and riding boots and other items for the horse owner. As horse people ourselves, we know you want to find the best supplies, supplements and more, and that's what we strive to offer.
Whether it's horse supplies, hoof medications or farrier equipment you need, shop Olympia Farrier Supply.